Getting To City Space
Getting to City Space's co-working office is easy, with the many commuting options available! Our convenient location on Heretaunga Street East in Hastings is easily accessible by bike, car and bus. Choosing to use City Space means that you will be able to get to work as soon as possible and avoid a difficult commute!
Hassle-Free Parking Options
There is free parking 3-4 minute walk away from our space! Actually there is plenty around Hastings. Karamu Road South, is only 2 block away. Ask for more when you come in for a visit.
There is 50c per hour parking only 1 block away, just behind the clock tower, next to Paper Plus in central Hastings. This will only cost a maximum of $4.00 per day. It's changed from 9am – 5pm.
City Space members have the option of leasing a parking space in Hastings for $70-80 per month. By leasing a parking space, you are entitled to exclusive use of that space every day of the week. There's no need to worry that you won't get a space close to City Space as leased spots are available on various nearby streets, including: Lyndon Road East, Warren Street North, Market Street South, Queen Street West, King Street North and Warren Street South. Choosing to lease a parking spot takes the stress and worry about where you park your car. Contact Hastings District Council for more information on a leased carpark near City Space!
Bus Transportation is Readily Available 
Take the stress away from your own commute and avoid the parking costs by taking our city's reliable bus transportation! Whether you're located in Napier, Havelock North or surrounding area, know that there is convenient, reliable bus transportation available to get you to City Space's location in Hastings. Besides Commuter Express buses that get you to Hastings quickly in the morning and afternoon, there are also regular buses available throughout the day.
Affordable Transportation Options!
To take advantage of even cheaper rates, purchase a goBay smartcard! Did you know that goBay smartcard fares are approximately 20% cheaper than cash fares? For example, a one zone trip costs only $2.88 from Napier to Hastings using a goBay smartcard, compared to $3.60 cash!
Purchasing a smartcard is easy! Get one from any Go Bus driver for $17 ($7 initial card purchase and $10 pre-loaded travel), from Hastings Library at $27 with $20 of preloaded travel, or at the HBRC office located at 159 Dalton Street, Napier.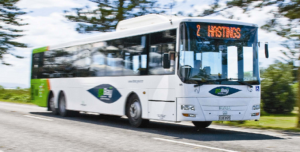 Come See City Scape's Co-working Space in Hastings!
Now that you know how easy it is to reach City Space's co-working space in Hastings, why not come for a tour? Our new co-working space offers flexible workspaces for entrepreneurs and small businesses. The best part? Our membership rates are affordable, with no scary long-term leases! Come see for yourself why we are the best option for a shared co-working space in Hastings! Contact us today to learn more information.