Doing Business in Hawkes Bay
Looking for a great place to do business? If so, then look no further than Hawkes Bay! Located in an enviable location with multiple distribution choices including rail, sea, road and air, Hawkes Bay provides ample opportunities to create a successful business. In addition, the city provides a great, relaxed environment to raise your family.
Offering the Right Environment to Raise a Family
While running a successful business in Hawkes Bay, you and your family can enjoy a relaxed lifestyle. Leave the stress of a busy city behind and enjoy Hawkes Bay's lack of traffic jams on your way to and from work.
Located on the east coast of the North Island, enjoy one of New Zealand's warmest, driest regions. Beautiful hiking trails and biking paths await your discovery, as does fresh, gourmet food and wine! Ample opportunities for taking adventures, learning about history and culture as well as appreciating the area's wildlife await you in Hawkes Bay! Great for Entrepreneurs! If you're an entrepreneur looking for a shared office space that has affordable monthly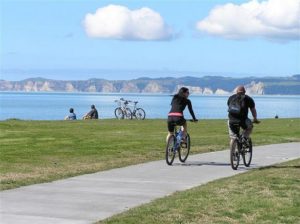 membership rates and no long-term leases, then look no further! City Space, Hawkes Bay's newest and largest coworking space, has a conveniently located office space in downtown Hastings, close to shops, restaurants and night life. Enjoy being surrounded by likeminded entrepreneurs in a creative, energy-infused environment where networking opportunities abound. See your business flourish at City Space!
Support Networks to Help Your Business Flourish
When you own a business, having a knowledgeable, supportive network is crucial to your business' success. In Hawkes Bay, there is no shortage of business supports available!
The Hawkes Bay Chamber of Commerce was created by business for businesses and is focused on driving business growth, success, vitality and prosperity. Becoming a Chamber member means you not only receive sound business advice, but can also partake in numerous networking events and enjoy big savings on business expenses.
The regional economic development agency for the Hawkes Bay region of New Zealand is known as Business Hawke's Bay. Other than fostering business development and growth, the agency also promotes the city as an attractive place to start, grow and relocate businesses as well as attract international market investment.
Hawke's Bay Business Hub's goal is to support businesses to lift Hawkes Bay's economic performance. In addition, it is home to many business support services.
Experience the Difference when Living and Working in Hawkes Bay
When you live and work in Hawkes Bay, enjoy a life-work balance that you've only dreamed of until now! For more information about shared office spaces and coworking opportunities in Hawkes Bay, contact City Space today!